Spanning a total of 18 issues, Gay Asians of Toronto (GAT) published Celebrasian- a quarterly newspaper including gay Asian poetry, prose, photography, interviews, news, and ads seeking for partners.
Gay Asians of Toronto (GAT) was formed in 1980 by Richard Fung, Gerald Chan, Nitto Marquez, and Tony Souza. When
Richard Fung
attended the 1979 National March on Washington for Lesbian and Gay Rights, he was inspired to launch an organization that would create a sense of inclusivity and belonging for the Asian Canadians in Toronto. Richard immediately contacted Gerald Chan, an activist who had published "Out of the Shadows", an article on being gay and Chinese, in the Toronto-based magazine
Asianadian
. They were soon joined by Nito Marquez, Tony Souza and Tony Chung. After posting ads around Toronto, the organization began meeting at the 519 Church Street community centre as a peer discussion group every other Saturday.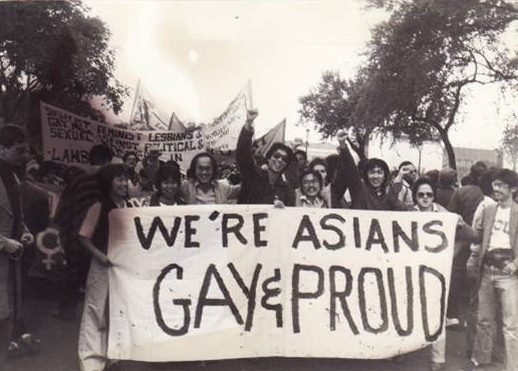 In 1982, Gay Asians of Toronto were chosen to lead Toronto's Pride parade after being approached by The Toronto Pride Committee, who wanted to host in Grange Park; because of its proximity to Chinatown, there was much disapproval among the Chinese Canadian community.
Alan Li
, a prominent group member, was the host speaker, and explained in his speech that
"as an Asian I have additional battle in the fight for my own liberation and for the liberation of the Asian community. As gays, we have to fight for our rights in the straight society, but Asian gays, like black gays, Jewish gays, sexual minorities, and the handicapped among us and every other minority within the minority have other battles to face as well."